Home
›
General

I made these cookies for Santa at Christmas, and I thought I would share them with everyone here since they turned out so tasty!
Perhaps we could all share a few recipes with each other, or at least the general idea of what our
favorite meal is/favorite snack, so others can try it too

:D
Here's my recipe:
Chocolate Thumbprint Cookies
1 1/4 cups White Sugar

1 cup Butter (2 sticks)

4 oz of an 8 oz package of Cream Cheese (half)

2 Eggs

1 tsp Vanilla Extract

2 1/2 cups All-Purpose Flour

1 1/2 tsp baking soda

1/4 cup Cocoa Powder
Preheat oven to 350 degrees F.
Cream together sugar, butter, cream cheese and vanilla. Beat in eggs until airy.
Using the same bowl, add flour, cocoa, and baking soda on top, then stir.
Form dough into balls and place 2 inches apart on cookie sheet. Don't flatten.
Bake 10 minutes, until tops are cracked.
3/4 cup Chocolate Chips

1/4 cup Heavy Cream

1 tbsp Butter
Melt butter and cream together in a saucepan until bubbly. Remove from heat and stir in Chocolate Chips until evenly melted.
Once cookies are out of the oven, take the back of a teaspoon and press into the top of the hot cookie, leaving a round indentation in the surface.
Fill indentation with chocolate syrup mixture, and leave to cool about 5-10 minutes.
Have fun making these cookies, I did!!

:D
<:-P
<:-P
Brought to you by
Chef Marzipan

:D
About your Chef:
Marzipan loves to play VFK and cooks in between finishing Scavenger Hunts and earning Ice Coins
:D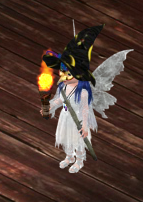 I am a total mystery girl!
Never without my magnifying glass <3

Thanks to
@bluewiz
for this amazing Secret Santa Christmas present!!