Home
›
General
---> PSA Before Judging Starts
Hey everyone! As we all know judging starts tomorrow, gingerbread contest is finally coming to an end (yay). Just wanted to mention few things before judging started. I'm sure most of us are already aware of these things, but just wanted to say it again.
1. Have patience. This is a ride contest, so rides may be short, long, laggy, could be multiple rooms. No matter what the room/ride is, even if a room is long and laggy, please be patient and complete the ride or completely view the room BEFORE judging.
2. Scroll scroll scroll. There are many little details that go unnoticed without scrolling, so scroll and view everything. You don't wanna miss the roofs!
3. Read "i". Read what the room is about, it may help to understand the things in the room or the meaning behind certain things.
4. Take your time! Don't rush and judge

:P
Lastly, for high quality resolution rooms, use

VFK site version full screen

.
There is a difference in quality when using Epic Ages (Site and Desktop)
even if its full-screen.
Here is a comparison. Same sign pictures, one on site full screen, one on epic ages full screen.


(From EA full screen)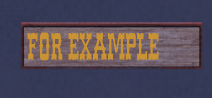 (From site version FULL SCREEN)
VFK site full screen, makes it easier and clearer to see things, especially signs. At least that is the case for me, I am not sure if there is a quality difference for anyone else.
That's it for me! Happy Judging and Good Luck to all which are participating.
Feel free to add anything else that I might have missed.