Home
›
General
Clothing Glitches - VFK, Please Fix
These clothing items are glitchy/busted and need to be fixed, please! I have tried to send helps but don't usually get any replies on them. During closing time too, so much is going on, that the staff doesn't always see our chat
asking
them to fix some of these items.
Anyone who has more glitches they'd like fixed can comment on here as well and we can make it a mass thread for clothing glitches. It's better if pictures are provided too, so they can see for reference what is wrong with the items.
The ones I would like fixed are:
Bethlehem Star Pendant - Cream
This pendant leaves me as a permanent loading blue blob,
I
have tried refreshing and it never works. I would like to be able to load and see it when I wear it.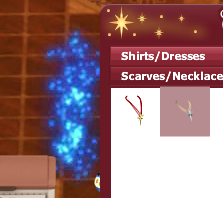 When facing certain ways, the umbrella covers the face/hair and forehead, and in one instance when the back of our character is facing us, the head is OVER the umbrella.