Home
›
Game Suggestions and Gaming in General
Hi!
I originally created this post on another forum 2 years ago and have been wanting to repost it here for quite a while, so nows the perfect opportunity! We have a GOLDEN 10th Year for VFK coming up, so I wanted to get this idea in front of VFK now!
For the past 9 years, the "Art" tab has questioned many vfkers because it has no purpose. Although I've seen many suggest it get removed from the game since it has no purpose, there are others who look at the "Art" tab and see great potential for a new game feature. I see great potential and I don't want the tab to be scrapped from the game, because I actually have a great idea that can make this tab a brand new FEATURE in VFK for people to express their artistic abilities! I have spent many long hours creating these images to help visualize the way The "Art" feature will work in VFK. Note - THESE ARE NOT IN-GAME IMAGES! All of this is a CONCEPT created by myself, and the images are used to help visualize my ideas.
Art in VFK is created by…
YOU
! You better buy an art board, because it's time to get drawing. VFK Drawing is FUN for all ages; you can even trade artwork with one another. Once you have your board, go to your room, open your inventory, and
click the "Art" tab and place your drawing board.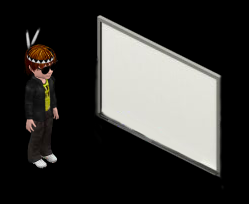 This is a "Drawing Board – Horizontal". Drawing boards can be purchased horizontal, or vertical. There are also designs for the artboards, standard (shown in photos), or if you want a more elegant regal look, you can purchase the Golden Frame Art boards.



Now that our Art Board is placed, lets click it.







You can see the "Draw" button is available so, lets give it a shot.

Once you click "Draw", The VFK Drawing Board Interface will pop up.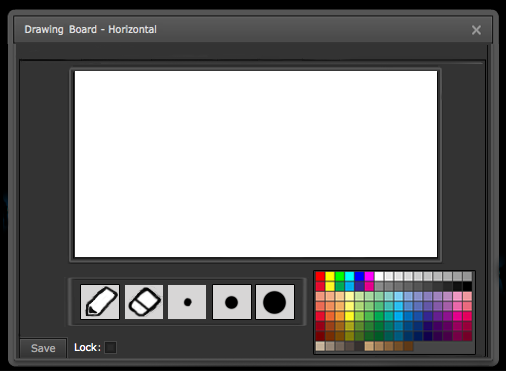 This is The VFK Drawing Board Interface.

As you can see, this is the Horizontal board,
it is simple and basic interface (good for all ages), yet can create beautiful art. There are many tools to use while drawing such as a pencil, eraser, different sizes (for the pencil and eraser), and a variety of colors!




Once you are familiar with the interface, select the pencil tool to begin drawing.





The pencil tool has now been selected; whichever tool is currently being used will noticeably have a darkened button. Before I begin my drawing, I must select the pencil size.


Let's start out our drawing with a light, small sketch, and as I move on, I can change my sizes as needed.

Now that I have selected your pencil tool size, I may begin drawing. Note: Sizes can be used for both the pencil and eraser.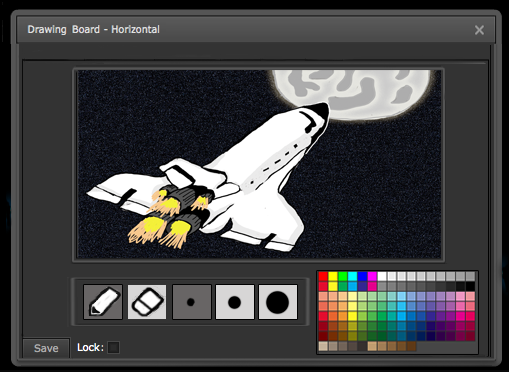 After hours of drawing, my masterpiece is complete! I now have an awesome piece of art that I can put in my rooms in VFK!
To prevent losing my drawing, I better click the "Save" button.

Okay great, my drawing is now saved.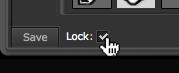 You can also "Lock" the drawing, to prevent others from editing your art. The lock button will lock the drawing so if a friend opens the art under furniture permissions, or if you just trade them the artwork, they cannot edit it to make it their own
whatsoever. The rightful creator who originally drew the art can only unlock a locked drawing.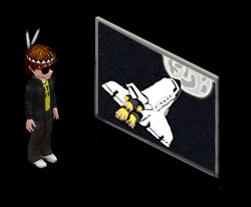 Now that my drawing is done and saved, I'm all set, time to show the world my art!
MORE DETAILS
Art Competitions – Get your drawing skills ready! The "Art" Tab brings an entire new type of
competitions to VFK! Similar to the many
room and ride building competitions players can participate in during
Halloween, Christmas, Spring (Garden), and other competitions found in VFK, you
can now part take in Art Contests!
During an Art Contest, players will be asked to submit their best drawing
to try to win special art prizes! The
prizes you can win are:
Art Competition Trophy (Gold, Silver, Bronze)
Art Competition Pin (Gold, Silver, Bronze)

Art Competition Beret (Gold, Silver, Bronze)
Winners also receive a free art board!
Art Gallery – The Art Gallery is the hotspot for everything
Art! You can purchase art supplies here
such as art boards to draw on, or even buy artistic fashions such as berets and
other artsy apparel! The Art Gallery was an idea that I felt would be nice in
Retro Age since there are a lot of fun areas there, yet then I thought it may
fit better in Victorian Age because the age could use some new great areas to
explore and I could see the Art Gallery fit very well with fancy music in
Victorian age. The art Gallery is not
only a place to buy art supplies but also a place that showcases new art! Art created by VFK players can be seen
showcased on the walls throughout the Art Gallery and can be updated whenever
VFK wishes to give players a fresh spotlight of the latest art created by real
vfk players!
Uploading Art – This is a feature I'm wondering whether or
not it should be included because it may take away from people actually
creating art IN VFK; I do see how it can also enhance art in VFK so I want to
still post this idea. If you have art that you created outside of VFK using
other mediums, you can upload the art to a VFK canvas using a new "UPLOAD Art"
Button. This process is not a way for
people to cut around creating their own art by simply taking any image you want
and displaying it on an art board, you must prove to VFK that it is art that
you created! Whether its you taking a
picture with the art in real life or simply somehow proving the art is yours,
you can request that the art that you created outside of VFK can get uploaded
on to a canvas for you to display to all of VFK!
Thank you for reading my concept idea, I hope everyone (including VFK) likes the idea as it would add a ton of new excitement to the game :)
-millsfan