Home
›
VFK Developer Ideas!
Spring Storage Solutions & NEW Feature IDEAS!! (and some other things)
Valentine's Day & BUNNNY IDEAS!!
Being that this year is year of the rabbit...!
Bunny Hats similar to previous' years Hippo and Koala Hats. A hat similar in style to

Collectible Reindeer Hoodie - Antique

and other hood hats, a more oversized, plushy, soft styled hat. With floppier bunny ears, being that we have many hats with stiffer, straight ears.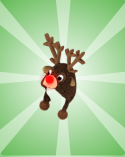 IF FOR VALENTINE'S DAY:

Heart shaped noses! Colored in lighter, less harsh, tones of blue and pin
k more like the Valentines Cowboy Hat - Blue / Pink from 2009. Let boys and girls wear both hats!
(Also let boys wear Hippo Hat - Pink and Koala Hat - Pink)

IF FOR EASTER:
The same concept except without heart shaped noses. Colored in an Easter pastel similar colors to the Easter Piglet Slippers.

Blue?

(Whichever holiday, I'm really hoping for a good blue bunny hat)
I love when for Valentine's Day (2011 & 2014) VFK picked an animal and built a sort of theme/set of items around it. Hats, Furniture, Pins, Etc. We've all heard of Hugging Hippos but what about Booping Bunnies!
Booping Bunnies with heart noses in the Valentine's Micro Heart Exchange!
Previous years Valentine's items remade to go along with the theme/ create a sort of item set?:
-

Booping Bunnies Love Seat
-

Booping Bunny Holding Heart

-

Color
-

Booping Hopping Bunnies HOST Pin

/ where bunnies hop out and boop their noses together.

(Similar to the Hugging Dancing Hippos HOST Pin)
I would love to see older Love Enchantments in NEW colors:
Recolor of Love Struck in the possible colors of White, Red, Purple or Black!
Recolor and continuation of the Heart Beat and Heart Throb Enchantments. New names and new colors! White, Red, Purple or Black with the possible names of:
Heart Break, Heart Ache, Heart Attack, Heart Pump, Heart Skip, Heart Felt, Heart Flutter, Etc.

My signature hair style that I always wear is the
Spade - Hair - Boy
that only comes in one color. I'd love to see the hair recolored for all 12 of the typical hair colors in a set:
Black,
Blond,
Blue,
Brown,
Dark Blond,
Dark Brown,
Ice Blue,
Platinum Blond,
Purple,
Red,
Strawberry Blond &
Teal. (I love everything about the hair, but maybe just fix the bald spot? with love of course O_O)


This shirt made in plain colors

(white, grey, black,

colors

) and even see it used for other things

(i'd like it as a plain tee option too)!!

We typically get a style of shirt that is used for a while until a new one comes along, and I'd love to see this one get used more! Possibly for Easter, The Fourth of July, Halloween, or really for any logo-y type. I really love how it fits as an oversized shirt

!!!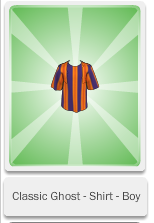 Spring Storage Solutions & NEW Feature IDEAS!!
I have come up with some storage solutions and NEW features that I think would be great additions to the game just in time for some SPRING CLEANING!!
Storage Ideas:
(I would love to see more credit, cheaper version, options for people who don't have a wealth of Gold Stamps)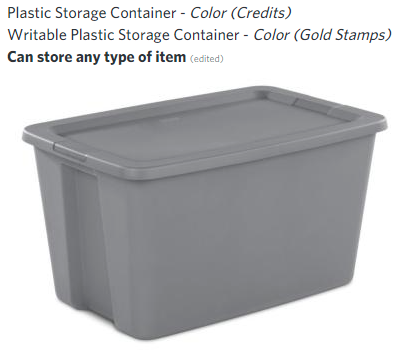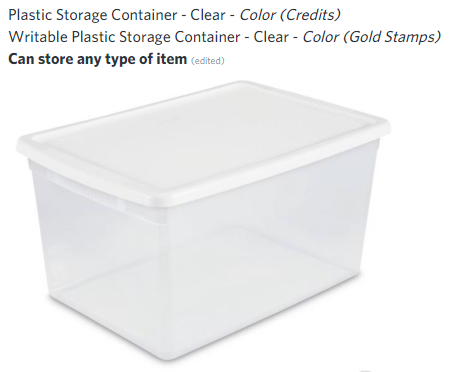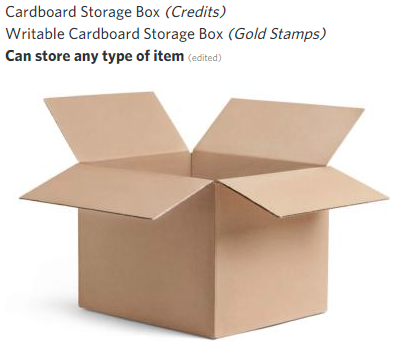 All 4 variants of the

Plastic Storage Container(s)

(writable and non-writable)

coming in most all colors, so we have the ability to color coordinate with holidays, seasons, etc: White, Grey, Black, Red, Orange, Yellow, Green, Blue, Purple and Pink

(preferably all in muted hues & for the clear variant having the plastic remain clear and only the lid change color).

OR

possibly a feature that allows us to change the color of whichever of the 4 variants we purchase, similarly to how we can change our signature color?
!!POSSIBLY

making these craftable? Credits for the generic pattern and gold stamps for the writable pattern. This would open up a wider range of colors to choose from.

(Adding no dye to the recipe will craft the generic white, 1 black dye crafts light grey, 2 black crafts dark grey, and 4 black crafts black?)
For both of the

Writable Plastic Storage Container(s)

AND

Writable Cardboard Storage Box

have the writable area be transparent so the text looks as if it is written on the container/box

(no white text box like most)

.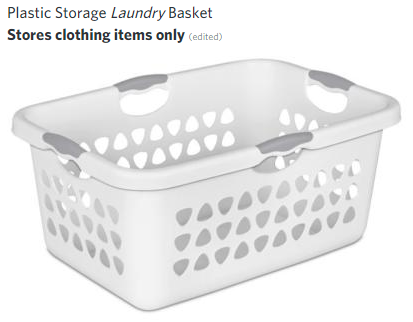 Perhaps to store clothing items that are disliked, for trade, or just dirty!!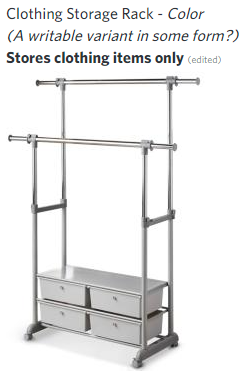 Preferably in the colors of Black, White, Bronze, Silver, Gold and Rose Gold

(I feel traditional colors would look too plastic-y)

. Something to store clothing in that isn't the typical container or wardrobe would be nice to see in-game, even better if in some way it could have a writable variant!
A feature

(with the ability to be toggled on and off)

that allows us to wear

ALL

the clothing that is on our account, not only clothing that is in our inventory. Sometimes I want all my clothing to be accessible, but we have too much clothing in-game to be able to access it all at once due to our limited inventory space. This feature would allow us to put clothing in storages while still being able to wear and enjoy it.

If it can be inventory searched, it can be worn!
The ability to sort the contents inside

ANY

storage item

.

Something within the storage item's interface that allows us to configure how items are organized inside the storage

(by date, alphabetically, etc..).
A

NEW

category in the inventory that houses items that are both furniture and have the ability to be worn as clothing: A sub-category of furniture?

EXAMPLE:

Easter Baskets, Ultimate Easter/Halloween Exchange items, Porcelain Christmas Dolls, Membership Buddy Carriables, Horn of Plenty - 2018, etc..
A feature that when a room's furniture is locked and a storage container

(trunk, bin, shed, wardrobe, etc..)

is clicked, it automatically opens its inventory. Similarly to when a locked chair is clicked, you sit, a locked rug is clicked, you walk, a locked teleporter is clicked, you teleporter.