Home
›
General
My First VFK Videos Back In 2017!!! :O
This is a time capsule! Taking y'all back to my very first days in VFK back in March 2017!!!
Let my noobiness entertain you as it entertained me lol...
So the other day I was looking at my external hard drive and I saw these videos. It made me remember that I really did plan to make VFK videos since the very beginning I signed up! :O Here I've compiled them to be half hour each. I was intending to record 30 mins of VFK content back then.
Some more things I want to say...
First video - while I was watching it, I saw my Guest #. I was Guest121051. Wow. And I think I sent my title GiftPrincess around March 5, 2017. I know I said to people before that I saw a Miss Clue ad, hence it directed me to sign up for VFK. But also I follow arglefumph's tutorial videos that lead me to VFK! I really can't remember but I for sure saw the Miss Clue ad in YouTube sometime as well (I'm positive). The first thing I did was play Miss Clue and I think that's another video. These videos are me pausing in between Miss Clue playing to finally explore the VFK world. :) This is why I never finished the Formula For Danger game also, lol. *Actually I watched it again, this were my very first times in VFK, not the times I was playing it while playing MISS CLUE. (I'm getting confused with my own timeline XD)
I think this will also be a good info for staff and developers from my point of view.
#fetusgift
#noob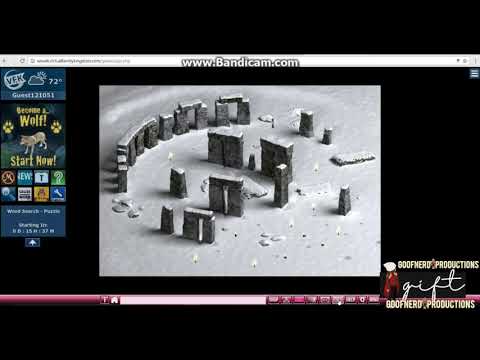 TIMESTAMPS:
0:27 Brief history of how I stumbled on VFK
1:00 Admiring my Victorian Summer Home login
1:10 Nooby explanation of my screen lol
2:55 Showing my first 2 friends that I added randomly
3:05 Seeing the world map for the first time
3:28 Submitting my title GiftPrincess
3:42 Seeing Quest Manager for the 1st time
4:52 Booming bells got me WHOA
5:12 Showing you my Colonial Living Room
5:26 Testing out the 411 Guide
6:13 Seeing GARDEN and being clueless
6:53 Going to Popular Rooms to add friends & reading their signs YAY
10:06 STARTING to explore Medieval Age
10:24 STONEHENGE!!!
11:42 Let's explore CASTLE ENTRANCE
12:51 Seeing ARTHUR'S ROUND TABLE
14:05 Going to CASTLE GATE
14:51 CENTRAL SQUARE aye
15:41 Trying to go to MERLIN'S MAGIC SHOP
16:33 Inside MERLIN'S MAGIC SHOP!
17:30 Tried to shop but...
18:18 Looking for MERLIN
18:36 Way out to CASTLE DUNGEON
19:38 Aye Castle Dungeon exploring
20:08 To the GATE HOUSE we gooooooooooo
21:02 Finally going to Gate House aye
21:31 I wanna go to the store lol
22:05 Singing with the Central Square theme song!!!
22:44 MEDIEVAL BLACKSMITH last room in medieval map
23:40 Exploring Map Pages
24:16 Trying to figure out if I have stuff do at login lol
24:49 Browsing to add more friends in - Popular Rooms
Quick
about: Uploading them here as "VFK NOOB DIARY" - let my noobiness
entertain you as it is entertaining me whenever I watch it!

:O

I'm so glad to
see what things I did back then and how awkward that I miss a lot of details
that I for surely don't miss now.
ABOUT: Signed up: February 2017 Miss Clue only: March 2017 Regularly playing the kingdom: April 2017 hehehehehe...... Came for MISS CLUE, stayed for VFK <3