Home
›
VFK Developer Ideas!
Spring Storage Solutions & NEW Feature IDEAS!!
I have come up with some storage solutions and NEW features that I think would be great additions to the game just in time for some SPRING CLEANING!!
Storage Ideas:
(I would love to see more credit, cheaper version, options for people who don't have a wealth of Gold Stamps)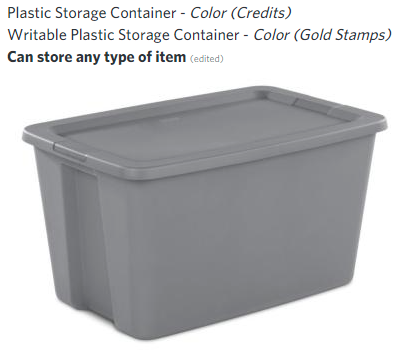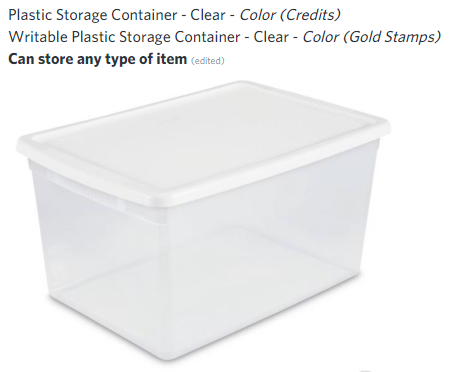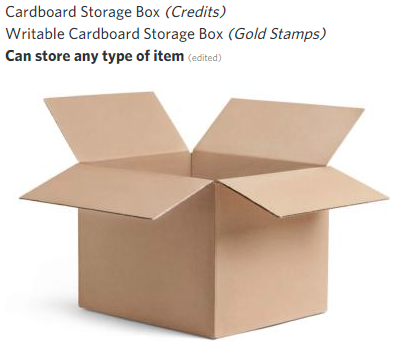 All 4 variants of the
Plastic Storage Container(s)
(writable and non-writable)
coming in most all colors, so we have the ability to color coordinate with holidays, seasons, etc: White, Grey, Black, Red, Orange, Yellow, Green, Blue, Purple and Pink
(preferably all in muted hues & for the clear variant having the plastic remain clear and only the lid change color).
OR
p
ossibly a feature that allows us to change the color of whichever of the 4 variants we purchase, similarly to how we can change our signature color?
!!POSSIBLY
making these craftable? Credits for the generic pattern and gold stamps for the writable pattern. This would open up a wider range of colors to choose from.
(Adding no dye to the recipe will craft the generic white, 1 black dye crafts light grey, 2 black crafts dark grey, and 4 black crafts black?)
For both of the
Writable Plastic Storage Container(s)
AND
Writable Cardboard Storage Box
have the writable area be transparent so the text looks as if it is written on the container/box
(no white text box like most)
.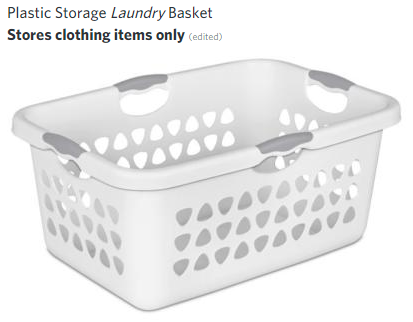 Perhaps to store clothing items that are disliked, for trade, or just dirty!!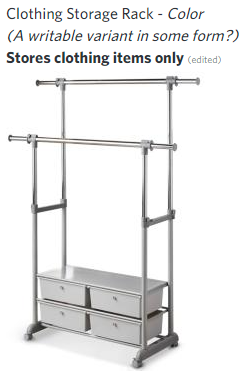 Preferably in the colors of Black, White, Bronze, Silver, Gold and Rose Gold
(I feel traditional colors would look too plastic-y)
. Something to store clothing in that isn't the typical container or wardrobe would be nice to see in-game, even better if in some way it could have a writable variant!
A feature
(with the ability to be toggled on and off)
that allows us to wear
ALL
the clothing that is on our account, not only clothing that is in our inventory. Sometimes I want all my clothing to be accessible, but we have too much clothing in-game to be able to access it all at once due to our limited inventory space. This feature would allow us to put clothing in storages while still being able to wear and enjoy it.
If it can be inventory searched, it can be worn!
The ability to sort the contents inside
ANY
storage item
.
Something within the storage item's interface that allows us to configure how items are organized inside the storage
(by date, alphabetically, etc..).
A
NEW
category in the inventory that houses items that are both furniture and have the ability to be worn as clothing: A sub-category of furniture?
EXAMPLE:
Easter Baskets, Ultimate Easter/Halloween Exchange items, Porcelain Christmas Dolls, Membership Buddy Carriables, Horn of Plenty - 2018, etc..
A feature that when a room's furniture is locked and a storage container
(trunk, bin, shed, wardrobe, etc..)
is clicked, it automatically opens its inventory. Similarly to when a locked chair is clicked, you sit, a locked rug is clicked, you walk, a locked teleporter is clicked, you teleporter.